JH Girls Basketball (6-8) will start practice on Monday Aug. 14, 5:30-7:30 in the Elem. Gym. All players must have an updated physical. Practice time for the week will vary due to gym work.
WMS Open House information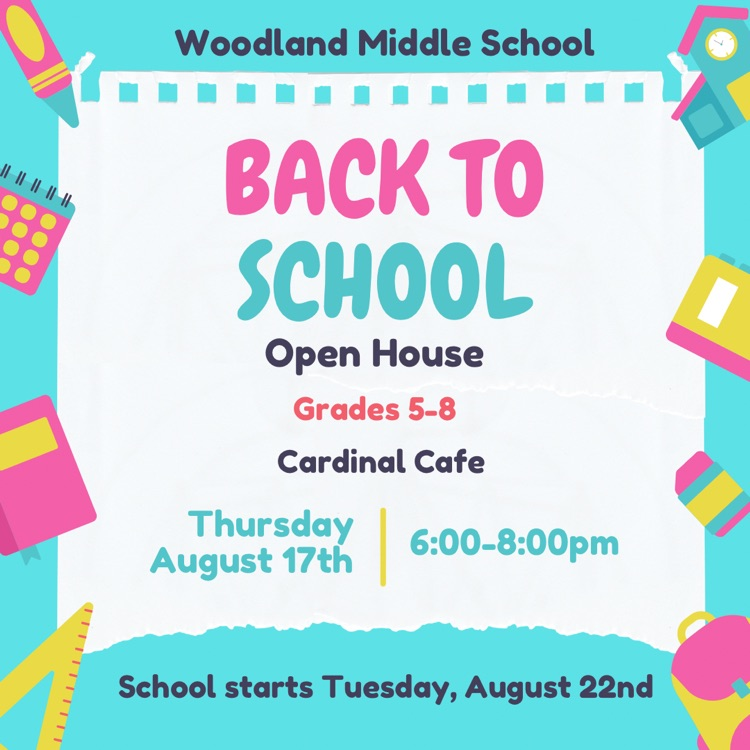 Woodland High School Families: Schedule and Chromebook Pick Up is tomorrow. We look forward to seeing you there!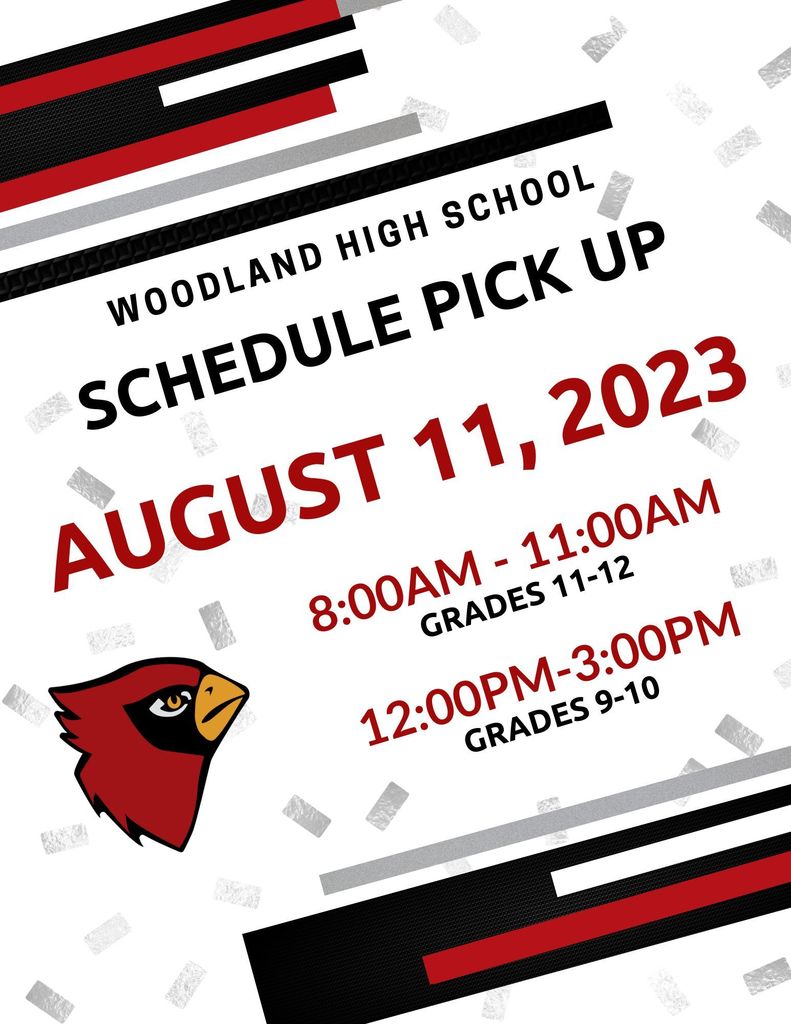 Woodland 7th and 8th grade students may pick up class schedules tomorrow, Friday August 11th, from 8:30am-2:30pm. Families may also complete technology paperwork and pick up chrome books as well.

Elementary Back 2 School Night, August 17th 5:00 - 7:00!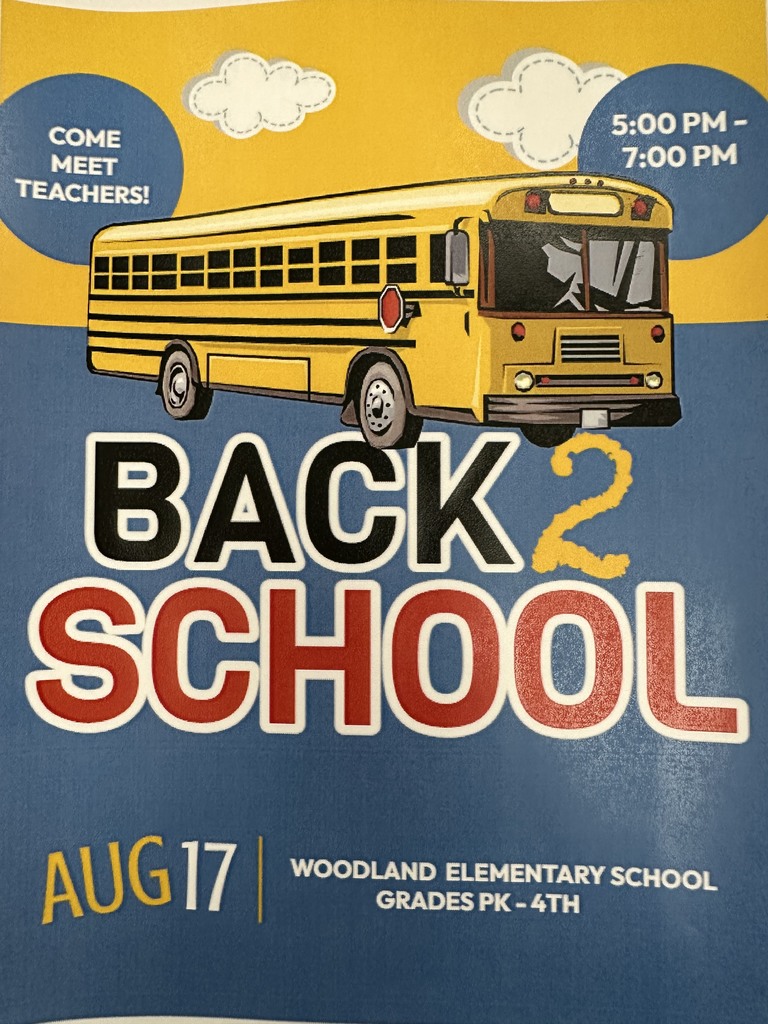 School begins on Tuesday, August 22. We are looking forward to spending the year with you and hope to see you at our before school events! Stay tuned for events in the elementary and middle school.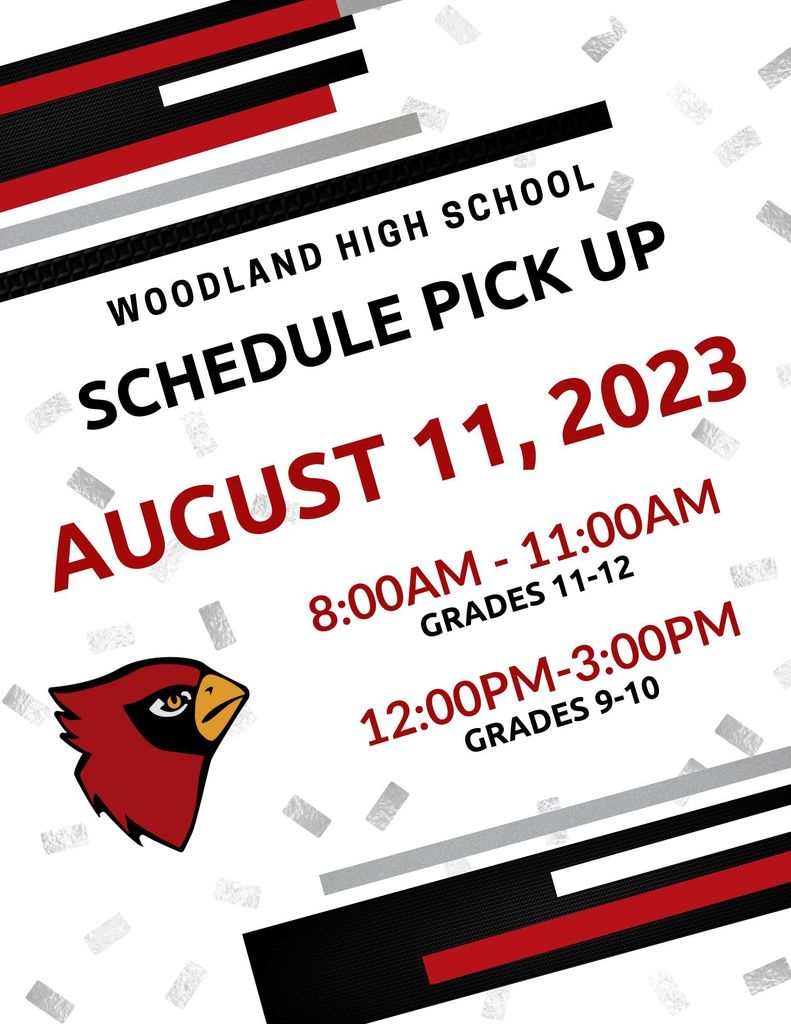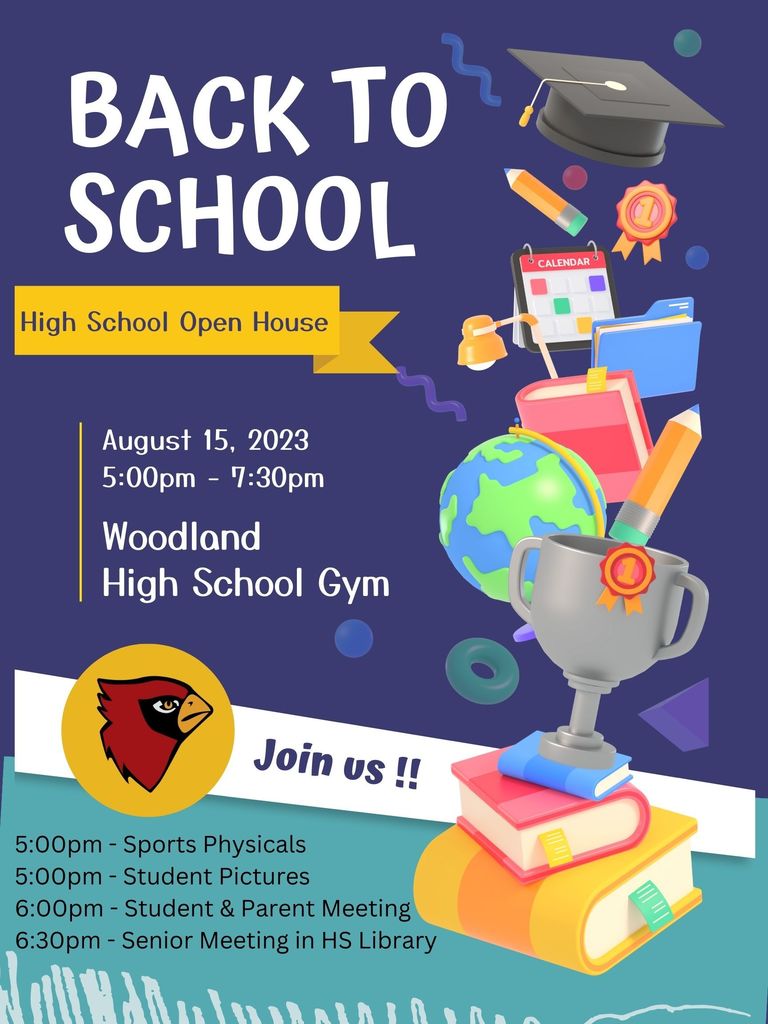 High school volleyball practice for girls in grades 9-12 begins Monday, August 7th from 3-6 pm. A current athletic physical must be on file before participating in practice. Athletic physicals are considered valid for two years. If you have questions, please contact Coach Johnson at 238-2822 x108.
The 2023-2024 student supply lists for PreK, Elementary, and Middle School can be found in this post. High School students will receive a more detailed supply list the first week of school, but to start, they will need the basics (pens, pencils, highlighters, erasers, folders, and notebooks. High School students may also wish to purchase headphones and a computer mouse.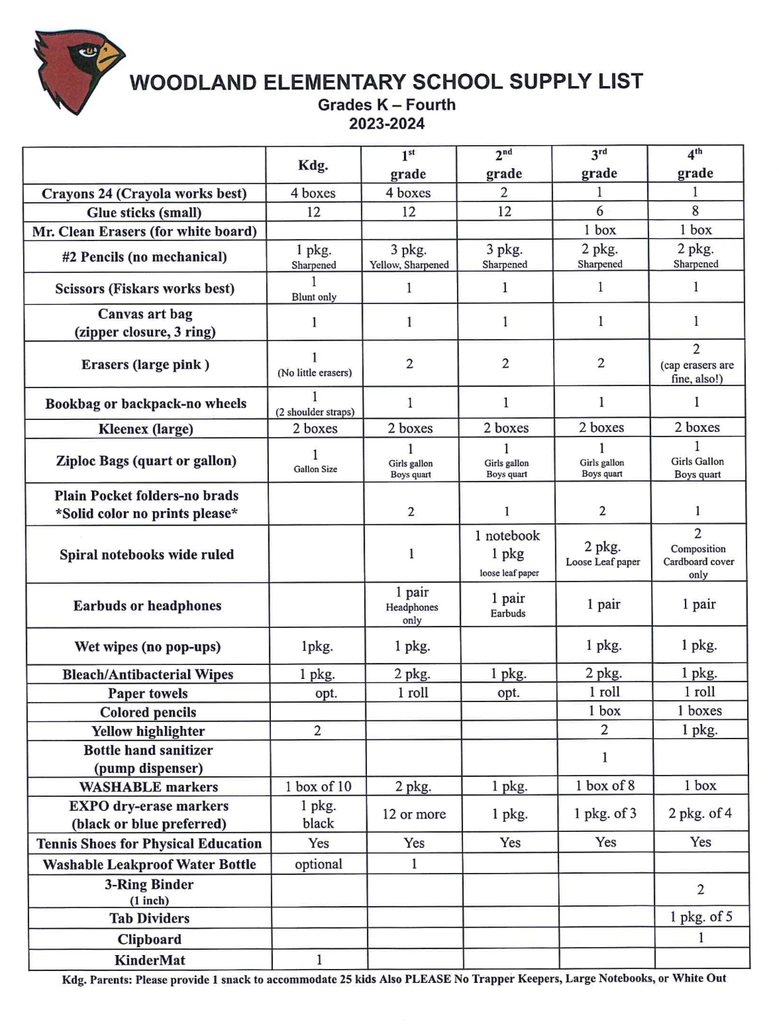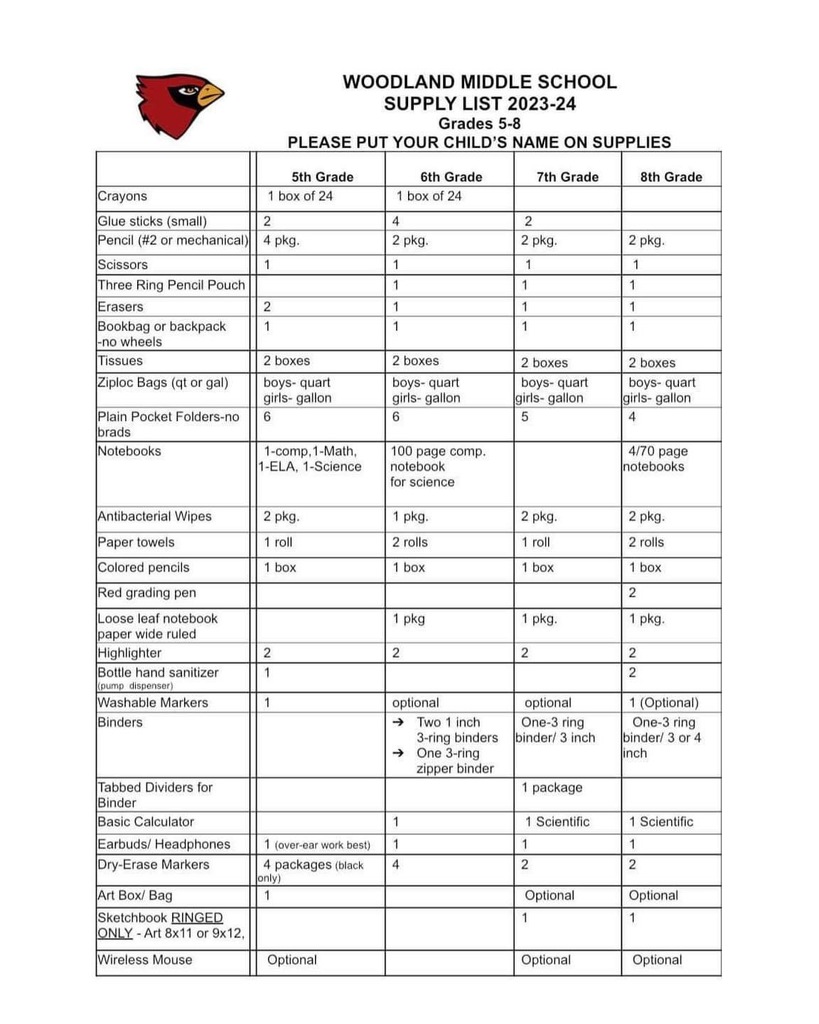 WMS 23-24 Supply List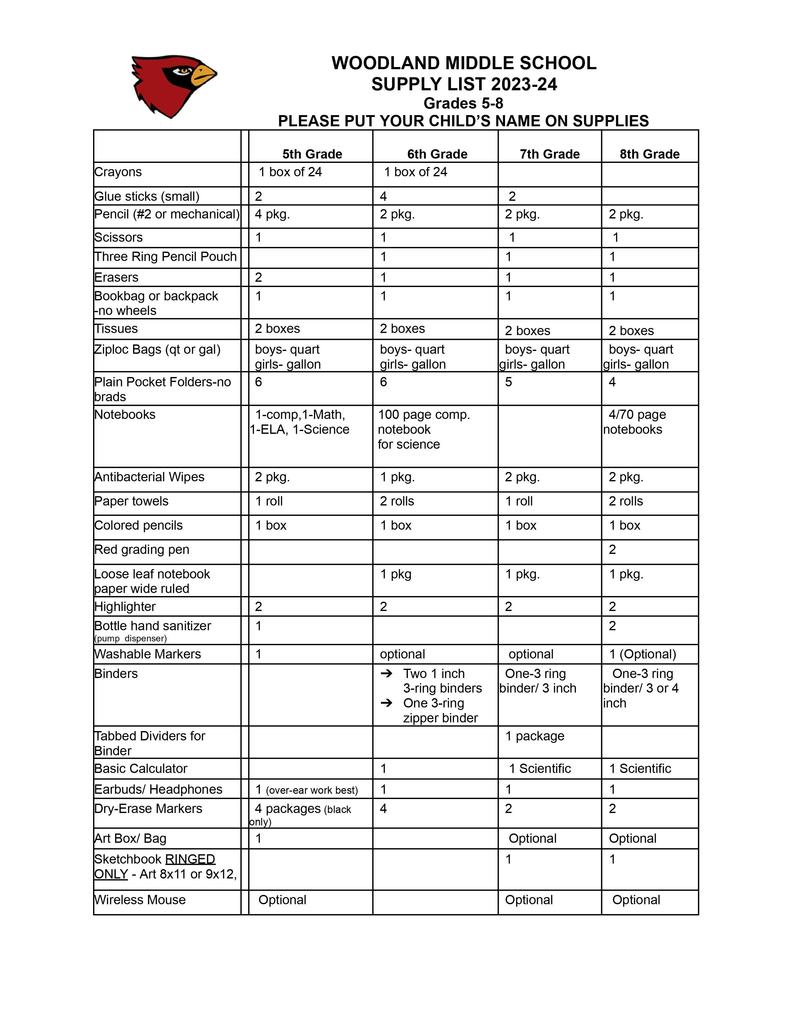 Congratulations to Rhodie Long, Mallary Barks, Seth Abernathy and Lane VanGennip for being selected to the SCAA All-Conference teams for Softball and Baseball.
Support the Woodland Boys' Basketball Program by participating in the 1st Annual Cornhole Tournament and/or purchasing raffle tickets for a professional cornhole board and bags.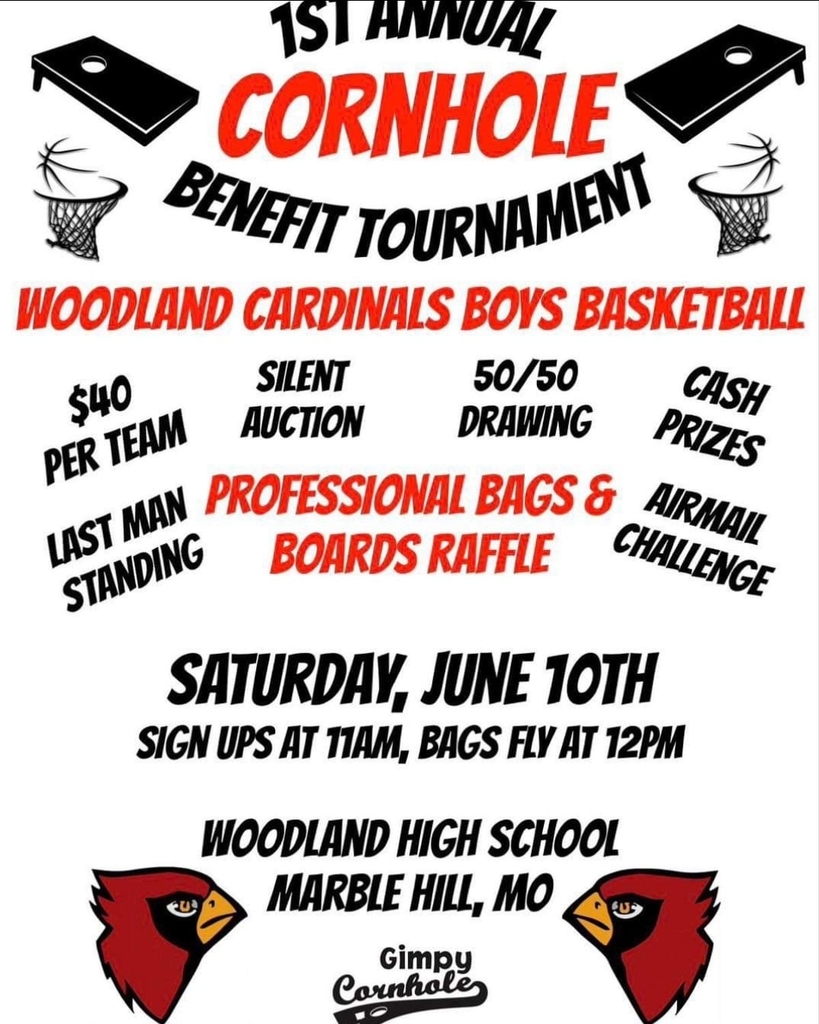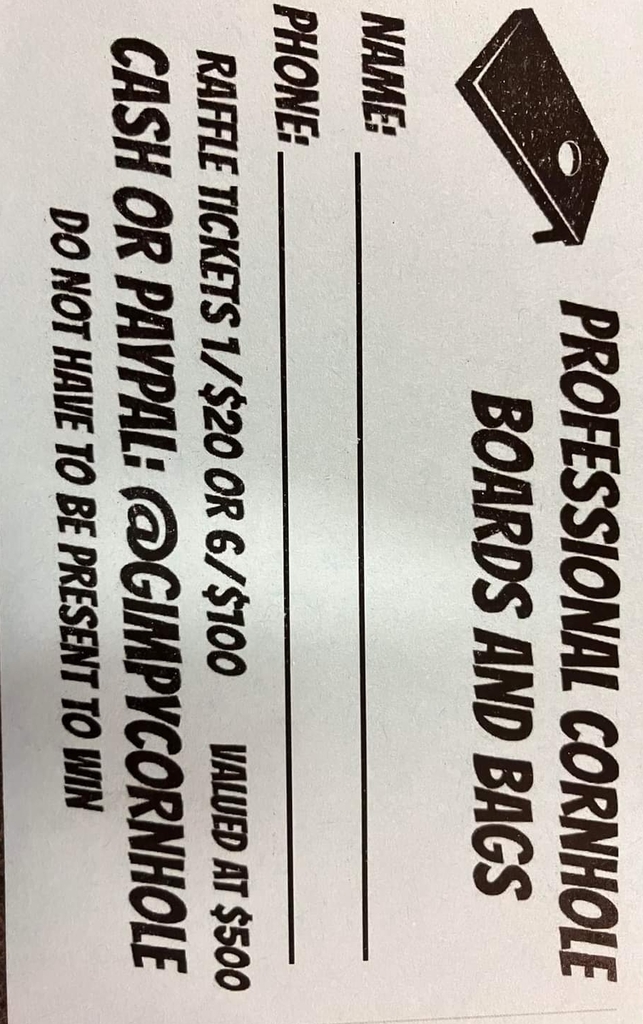 Mobile Food Distribution available to all Bollinger County residents on Monday, June 19 at 10:00am at Woodland Elementary School.
Support our Summer School Activities with Kona Ice. 20% of sales go back to our school. See attached menu for dates, time, and pricing information.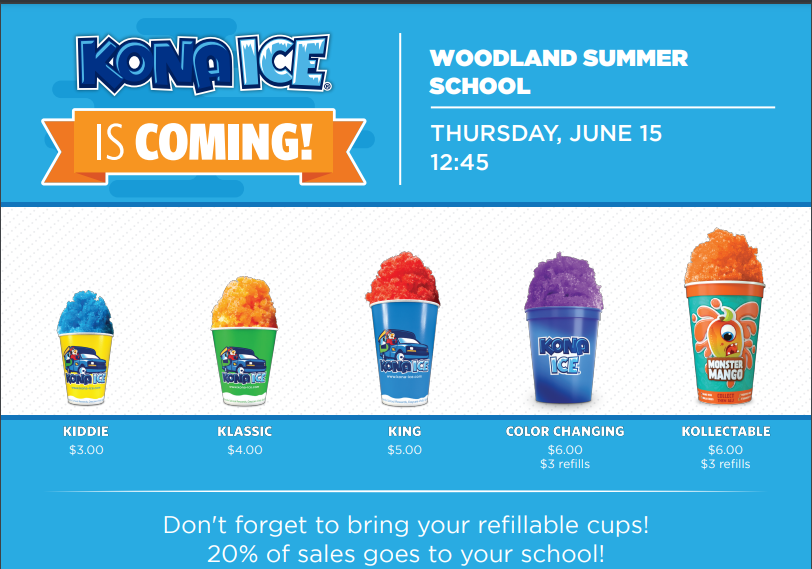 Support the Woodland Girls' Basketball Program by purchasing a Pork Butt. Orders due Tuesday, June 20, 2023.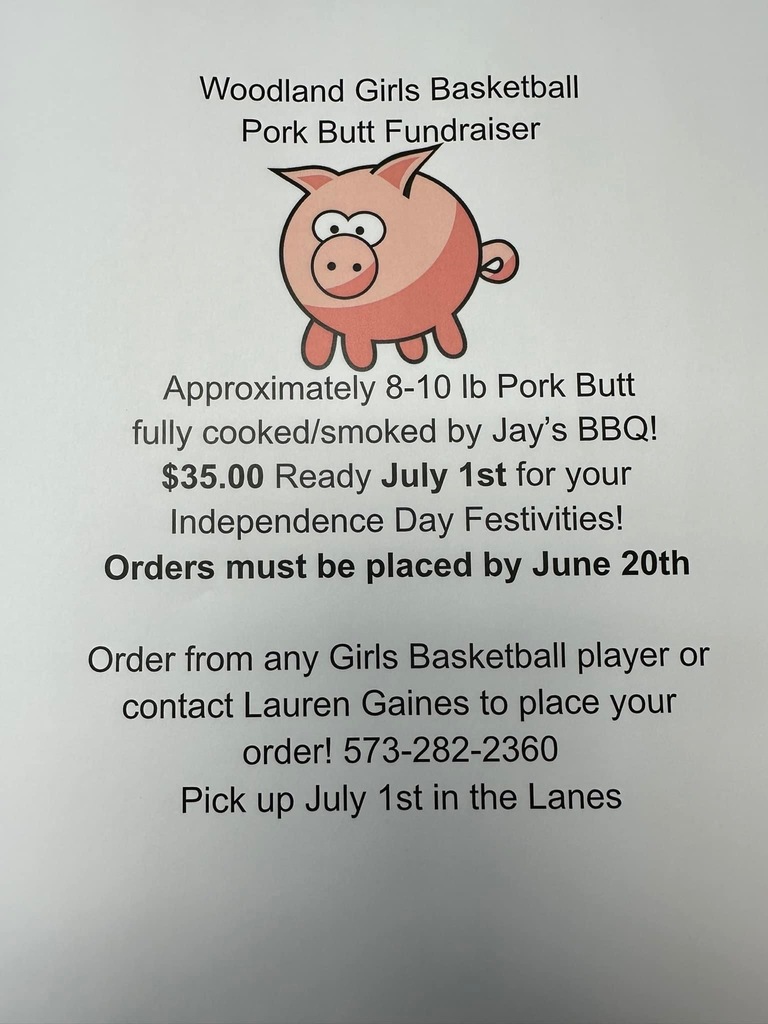 Congratulations to the following Woodland Softball players for being selected All-District: 1st Team-Rhodie Long 2nd Team-Mallary Barks We're PROUD of you!
Woodland Middle School holds an annual tradition for 8th graders going into high school...8th Grade Send Off! Here are a few pictures of the 2023 8th grade awards assembly held on the last day of school.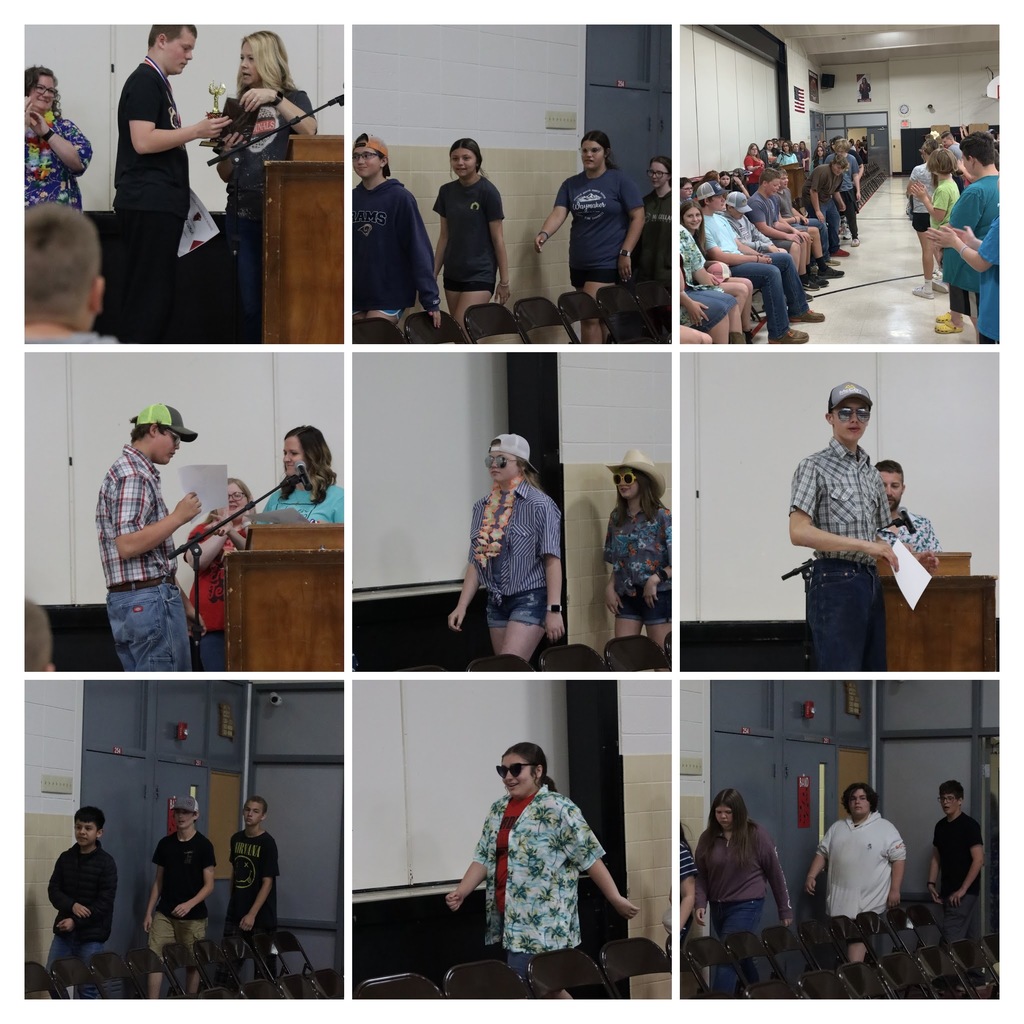 Woodland Middle School honored students in grades 5th through 7th with 4th quarter and end of year awards Thursday afternoon. Congratulations!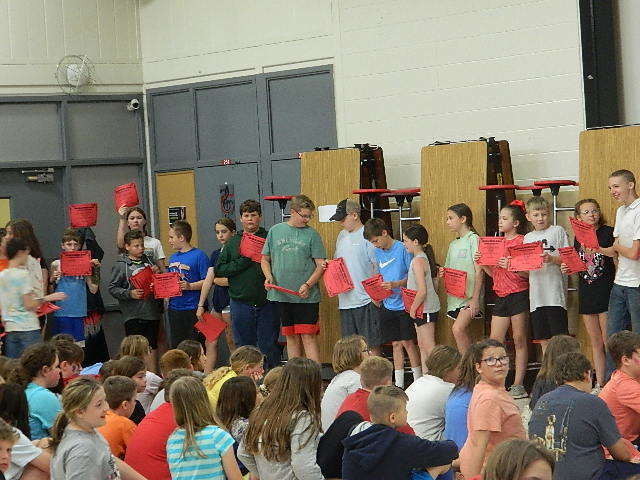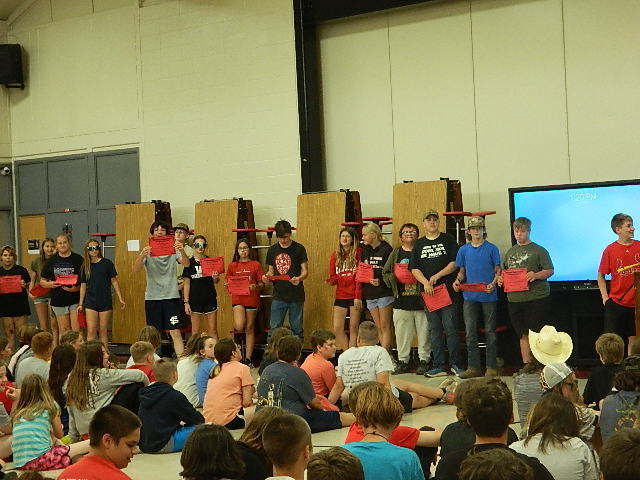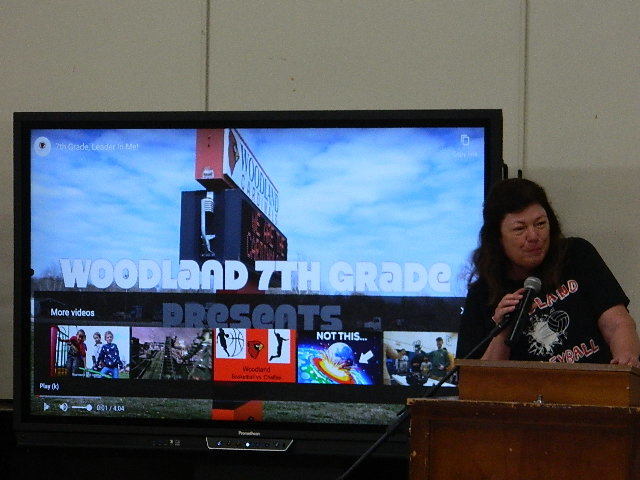 WMS-Ms. Stevens's ELA classes created characters for a murder mystery party. Each class had to discover hidden clues and find out who was the criminal behind the dastardly deed. Thankfully all criminals were caught and the investigators celebrated their success.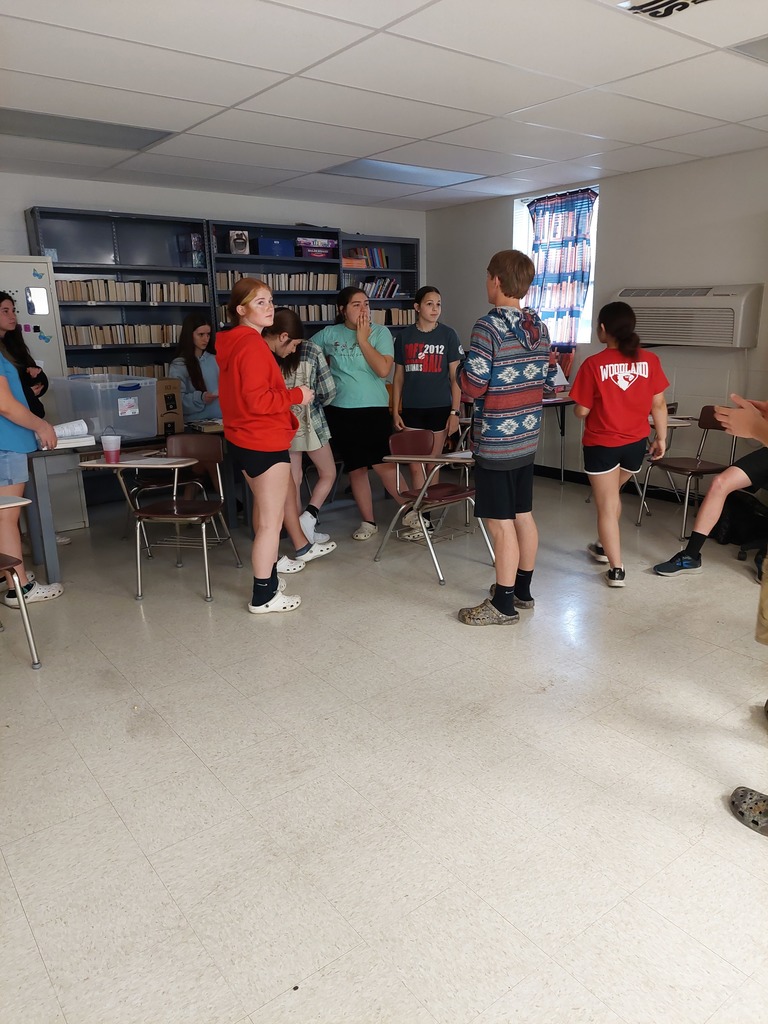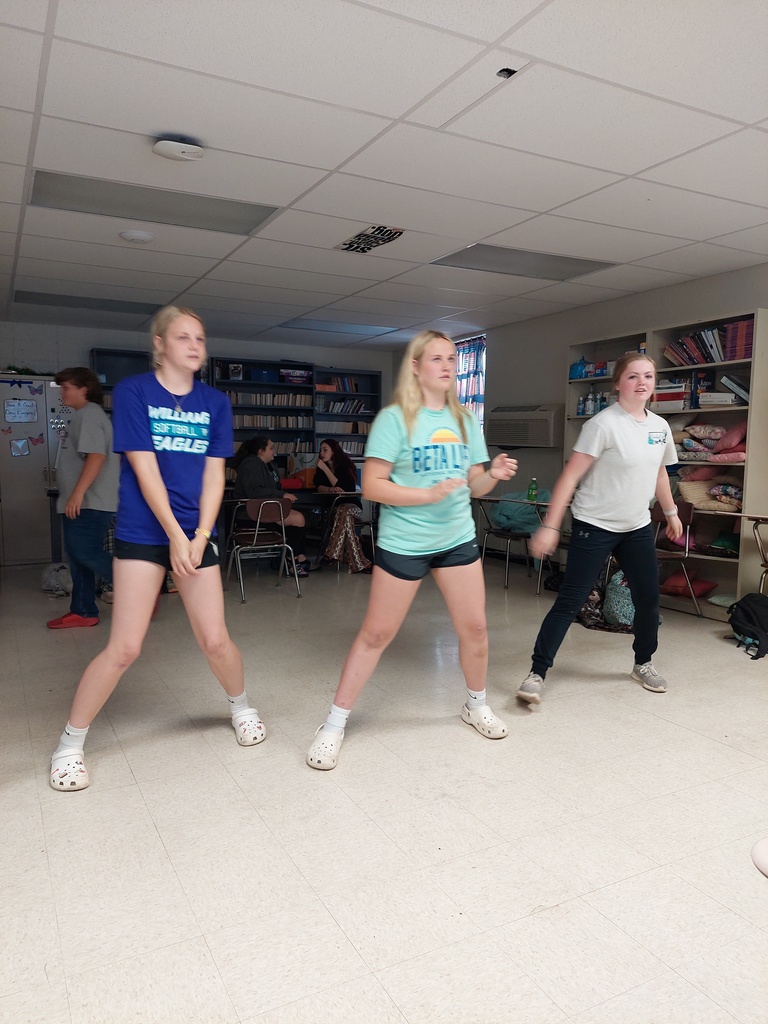 The High School Awards Assembly will be held today @ 1:30pm in the High School Gym. Parents are welcome to attend.

Congratulations to our Math Whiz winners! These students answered the most correct math facts in the time allotted. This was Woodland Elementary's first Math Whiz event. Kindergarten - 1st Bentley Scherer 2nd Amara Johnson 3rd Caleb Eaker 1st Grade - 1st Lucas Li 2nd Brynlee Killian 3rd Zieben Gemeinhardt 2nd Grade - 1st Shelby Roberson 2nd Clate VanGennip 3rd Toby Garland 3rd Grade - 1st Bryson Overmann 2nd Zeke Upchurch 3rd Tristyn Beusking 4th Grade - 1st Annie Johnson 2nd Heidi Upchurch 3rd Willow Thompson