Dear Woodland Community, this is just a reminder that Parent Teacher Conferences are scheduled for today from 2-l to 8 p.m. Students will be dismissed at 1 p.m. We appreciate you being a partner in your students education and look forward to seeing you. Also remember that school will not be in session tomorrow, Friday, March 19th. Thank you.

Please see the posted flyer to set your appointment for PK & Kindergarten Screening.


Woodland Community, we've got the 2021-22 School Calendar published. For now, you can find it here under the Parent's Resources documents folder:
https://www.wsdr4.net/browse/112590
The current calendar is still available at Menu > Parent Resources > Academic Calendar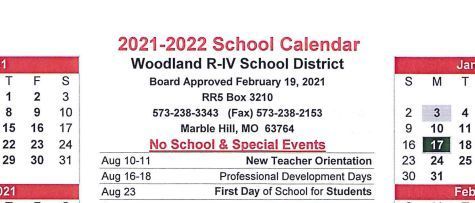 Woodland Elementary and Middle Schools are celebrating Random Acts of Kindness Week!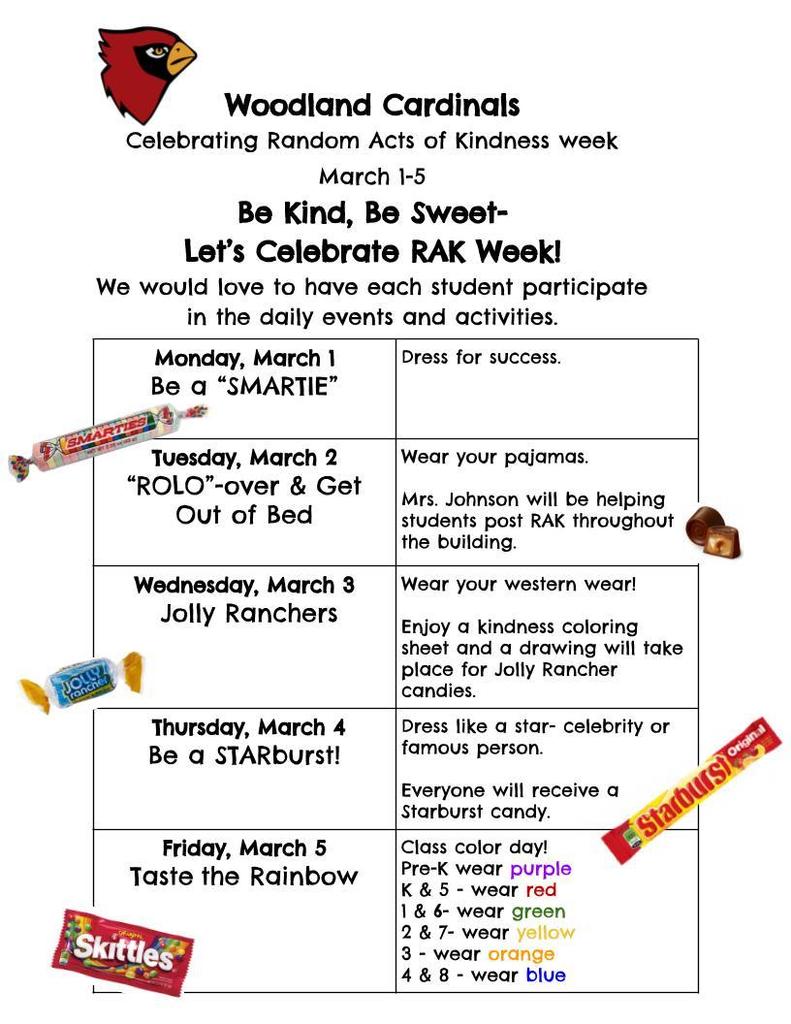 Woodland Community, The Class 3 Basketball Sectional Game vs. Twin Rivers will be held on Wednesday, March 3rd at 6:00 P.M. at Woodland High School. Ticket sales information will be published this evening at 5 P.M. Each school will be allowed 250 tickets to be purchased through the MSHSAA website. You will be provided a presale code and then you will need to follow the steps provided in the upcoming post to secure your tickets for Wednesday nights contest. Come out and support the Woodland Lady Cardinals!

Woodland Community, The Woodland Lady Cardinals will be playing at Bloomfield High School tomorrow night at 6PM for the Class 3 District 2 Championship. We still have admission availability for tomorrow nights contest. You will have until 10AM tomorrow to contact Mr. Kinder via email at
skinder@wsdr4.net
to request you or members of your family to be added to the admissions list. Please list each spectators name in the email. You will receive a confirmation email from Mr. Kinder upon your request. MSHSAA has a $5 charge for each spectator over the age of 5 at the admissions gate. Sign up and come out to support our Woodland Lady Cardinals. GO CARDS!!!


Spring Pictures have been rescheduled for Monday, March 15th.

Today, Tuesday Feb 23rd, all after school tutoring is CANCELLED due to concerns with road conditions in the evening. Affected families will also be contacted directly via phone and/or Dojo ASAP.

Woodland staff and Patrons of the community: This message is a reminder that for this weeks District Boy's and Girl's Basketball games, MSHSAA has a $5 charge per spectator over the age of 5. Only those on the MSHSAA PASS List will get in free. Those on the ADMISSION list will still be charged the $5 fee. Thank you, Woodland R-IV Schools GO CARDS!!!

Woodland vs. Saxony Lutheran - Class 2 District 2 Boys District Stop by
https://www.mshsaa.tv/?S=WoodlandCardinals
for coming games! If you need help setting up your account please look at the "Need help logging in? Click here for help" link on the MSHSAA page.

Woodland Community, Woodland R-IV schools will not be in session Monday, Feb 22nd, due to hazardous conditions on our county roads. Thank you

Woodland Community, This message is to inform patrons of the community that if you are interested in getting on the admission list for the Class 3 District 2 Tournament held at Woodland. Please contact the High School principal via email to submit your request at
skinder@wsdr4.net
by 2/21/21, Sunday at 12p.m.. Due to the number of limited spots available on the admission list, each request is only limited to 2 people and will be granted on a first come basis. Please be specific within your email, listing the 2 names for admissions along with the date and game that you are requesting. The high school principal will respond via email with a confirmation to request. Thank you for supporting the Woodland Cardinals! Monday 2-22-21 Boys 6:00p.m. Wednesday 2-24-21 Girls Game 7:00p.m.

The Missouri High School Volleyball Coaches Association (MHSVCA) has announced and released it's 2020 Academic All-State recipients. Recipients must have played in at least 75% of all matches during the season and obtain a cumulative GPA of 3.6 or higher. Congratulations to Woodland's Emma Brown, Chloe Goodwin, Addie Johnson, Mallorie Miles, Caroline Rhodes, Ally Whitener and Kaitlyn Zajicek for achieving this honor.

Woodland Community, school will not be in session tomorrow, Thursday Feb 18th or Friday, Feb 19th due to the weather. We are hoping, weather permitting, to be able to return to school Monday. We will keep you posted!

Woodland R-IV will not be in session, tomorrow Wednesday, Feb 17th.

The board meeting scheduled for tonight on Tue the 16th has been postponed.

Woodland Community, The high school girls basketball game verse Chaffee has been canceled for this evening. Thank you for supporting our Lady Cardinals!

Woodland Community, Woodland R-IV will not be in session Tuesday, Feb 16. Due to current conditions and the forecast next week, it is possible school will be closed for the rest of the week. We will continue to monitor the forecast and keep everyone informed. Thank you